Journal Entry:
Thu Mar 22, 2012, 4:20 PM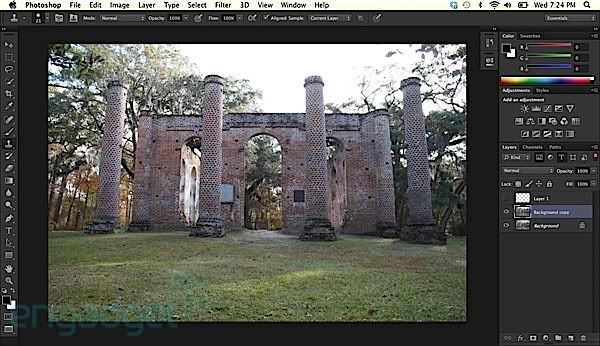 www.engadget.com/2012/03/22/ad…

Apparently we can all download it as it is still in beta!
Excerpt from the press release:
"Photoshop CS6 will be a milestone release that pushes the boundaries of imaging innovation with incredible speed and performance," said Winston Hendrickson, vice president products, Creative Media Solutions, Adobe. "We couldn't wait to share this beta of Photoshop CS6 with our customers and are looking forward to hearing from them and seeing the ways they are incorporating the beta into their daily creative workflows."

New Features in Photoshop CS6 Beta
Photoshop CS6 beta demonstrates Adobe's focus on huge performance enhancements, imaging magic and creativity tools that offer customers a new experience in digital imaging. Key features include new additions to the Content-Aware tools: Content-Aware Patch allows greater control by letting users select and duplicate an area of an image to fill in or "patch" another. Content-Aware Move lets users select and magically move an object to a new place in the image...


Reading: 13 Things That Don't Make Sense.
Drinking: Good Old Fashioned H2O.


Reply

Reply

This new photoshop is really nice and works very well, I will probably change my Photoshop 6

Reply

Has Adobe Photoshop CS6 actually been released yet?!?!?! i just cant wait to get it!
Reply

Adobe Photoshop CS6 Free...! Trial... Oh, Adobe being... Adobe...

Did anybody else have this reaction?
Reply

Yep, the dark interface looks absolutely stellar! (deviantART should get the hint and darken down again as well, btw

)
However, one thing that's apparently
still
missing is the option to add multiple layer styles to one layer (like 2 drop shadows) and the possibility to re-arrange them...
Reply

Wow! I'm really out of date now! lol I am still using CS$!
Reply

I just bought CS5 a couple of weeks ago, I wonder whether I'll be able to upgrade for free if I complain loudly enough... For now I'll have to just try the beta.
Reply

You might be able to. A friend of mine got a free Windows 7 upgrade from Acer, because he bought his machine 1 week before Microsoft released it, so who knows.

Reply

Well as of right now they said that since the full version hasn't been released they won't even talk about it, so we'll see what happens.
Reply

I think they should at least give you a discount on the upgrade if you've bought CS5 within a certain amount of time for a limited time maybe - 50% off of the upgrade for 30 days after launch, after that you'd have to pay full price for the upgrade.

I don't think Adobe would ever give away a free upgrade.
Reply

The darker UI is far better for low light conditions and performance is great - it's even more noticeable when you enable OpenCL with a supported video card (which mine is). Another big thing for me is how they've finally included (and I don't know why they didn't do it sooner) an autosave/recovery feature...I can't count the times that Photoshop has crashed, power's gone or my PC has had an issue where I've lost work (maybe something that took near on an hour) because I forgot to save. lol
All in all, I think I'll be upgrading to CS6 when it's available - I've done a video here on YouTube:
[link]
Reply

Thanks for the link, it was nice to see those awesome new features in action, i cant wait until released, i hope they finish it soon.

Reply

I have installed the Beta, it's really great and I love the dark color it has that it gives a good feeling and more of a Mac honestly |D how Pxm is that's also a really dark look to it.
But, CS6 is really fast now, it's more stable than ever how CS5 has been. CS6 is worth the upgrade to many professional artists
I ain't a pro, but, CS6 is a really great software adobe have ever created and they finally put time into it
Reply

That new interface is the thing i love the most! i already customized my 3DSMax interface to be darker, its simply better that way!
Reply

LOL Indeed xD The interface is the most awesome design for photoshop and so organized. Also the color

xD Somehow, dark color is better and helps the artist to focus better in comfort of the eyes I believe
Reply

Reply